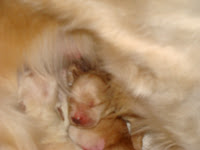 In February 2012 we plan to do a repeat breeding of our Moet ( see her page on the website – Ireigold Champagne at Midnight)  to   Scout ( Crangold the Hunt is On-  photos below), with pups ready for their new  homes toward the end of June. Last year's breeding  yielded rave reviews  and all ten pups are   beautiful, healthy, well tempered, and versatile, as goldens should be. Several will go on to agility and/or therapy dog careers including Piper ( look for her page  on the website),  the promising pup we kept who  is in residence with my daughter, Emily, in Washington.  Keep an eye out for photos of these pups on the blog, or email me and I can send you several directly.
 Scout is a handsome, smart,  easy going and proven sire who comes from a long established and well respected kennel in Vermont.   His pedigree  and that of any of our dogs may be found at K9data.com. He is hip/eye/heart/ elbow clear.  In addition to Piper, he also sired our Lila ( Goldensand the Heat is On) who earned her Canadian championship at age 10 months, is well on her way in agility foundations training, and is among  the most intelligent and charismatic goldens we've had the privilege to own and train. Needless to say, we are especially pleased with our Scout progeny.
We are reserving puppies now and have deposits for three.  Contact us  for more information and to schedule a visit with us.